Hey all! We know how to redirect via webhook after a form has been submitted. My question is, is it possible to redirect from an interstitial page, not from a form submission.
Here's my workflow:

A user triggers a webhook by submitting a form in Softr.
Make.com redirects the user to an interstitial page. Why: the HTTP request in step 4 can take up to 10 seconds, so I wanted to send the user to a "please wait while we work" interstitial page.
Make pulls some info about the user from Airtable.
I pull a bunch of info from an API. Again, this can take 10 seconds.
Update the user's information in Airtable – Up to this point, everything works perfectly.
Redirect the user to their campaign detail page, using the new info from step 4.
Step 6, redirecting to a new page from the interstitial page, is what's knocking me out. I'm pretty sure I'm missing a script in my custom code, but for the life of me can't figure out what. For reference, my step 6 webhook looks like this: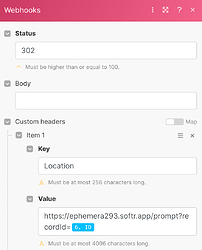 Any ideas/thoughts?