Hey, with the new update that added action buttons, we have lost the ability to add buttons as a field type in the details section of the inbox component. Buttons now have to be added via the actions tab, however if you have multiple buttons the buttons will not wrap to a new line and the label will be replaced with "…" which is poor UX. Before this update, buttons could be ordered to sit amongst other content, rather than listed at the bottom. The wrapping issues also did not exist.
I have already had a customer complain about how hard it was to find the wrapped button.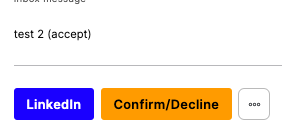 I would like to have the ability to order the buttons in amongst the other details content, rather than being forced to have them all as one line and loose the button label. The full button label needs to be shown rather than 3 dots.