Dear Softr community,
I'm reaching out to you as I'm experiencing an issue while trying to create a multilingual website with Weglot. (I chose Weglot over other solutions because it is the recommended solution in the Softr documentation, see here: Weglot)
Weglot offers three kinds of integration:
A JavaScript integration
A subdomain-based integration
A subdirectory-based integration
I eliminated the JavaScript integration right away, as it does not allow Google (and other search engines) to index the translated pages, and started with the subdomain-based integration.
However, since I also use iubenda and intercom (two solutions for which Softr offers integration), it became problematic because these solutions are linked to the website's domain (www.dance-connect.com) and therefore didn't work on subdomains (fr.dance-connect.com, es.dance-connect.com, etc.)
So I switches to the subdirectory-based integration, which allowed iubenda and intercom to continue functioning perfectly on the subdirectories (www.dance-connect.com/fr, www.dance-connect.com/es, etc.)
However, when I use the Weglot country switcher to switch the visited page from English to any translated language (French and Spanish), as soon as I click on a link (no matter what the link is), I land on the destination page with the country switcher reverted back to English. It is obviously not feasible to ask visitors of the website to use the country switcher again, on each visited page, to switch the page back to French or Spanish.
So I reached out to Weglot for assistance in finding a solution to ensure the correct functioning of the country switcher and seamless language transition across pages. They informed me that the issue lies with the redirections made by specific kinds of links, such as "/sign-in" and "/sign-up". So, to resolve this issue, they recommended adding a "/" at the end of these URLs, making them "/sign-in/" and "/sign-up/".
I then turned to Softr support to inquire about the procedure. However, they informed me that it is not possible because having slashes at the end of URLs can cause duplicates when indexing pages (which is absolutely correct, see: Aplicar ou não a barra  |  Blog da Central da Pesquisa Google  |  Google for Developers).
So, I reached out to Weglot support again, and they asked me to update the "/sign-in", "/sign-up", etc. links (see screenshot) with "https://www.dance-connect.com/sign-up", "https://www.dance-connect.com/sign-in", etc. (i.e., adding "https://www.dance-connect.com" at the beginning of each of these links), as Weglot "translates" every href link in the translated pages' source code by adding the /fr/ or /es/ in those.
And, when the link have not the whole page's classic structure "https://www.dance-connect.com/sign-up" in the source code, Weglot has trouble detecting it to add the /fr/ or /es/, so they explained to me that this is very likely why visitors on translated pages are redirected in English on the website.

According to Weglot, this behavior is usually solved by changing the href structure from "/sign-up" to "/sign-up/" or "https://www.dance-connect.com/sign-up". But, Softr does not allow such manipulation (see screenshot).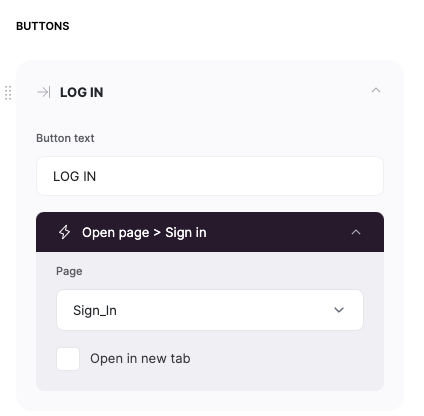 So, I find myself constantly bouncing between Weglot and Softr support, and they keep passing the issue back and forth.
Nevertheless, I have been careful to only use solutions recommended in Softr documentation or for which Softr offers integration. Therefore, I don't understand how such a situation can occur, especially when I exclusively use solutions recommended by Softr. So, without a solution, I'm turning to you in the hope of finally resolving this problem

Thanks you in advance for your help!