Hello everyone,
I hope you're all doing well. I'm currently working on a project and using @matthieu_chateau and @artur 's code to display a loading wheel after a user submits a form (here is the original post). The code works well from a CSS standpoint, but there's a catch. I've included a GIF with this message where you can see that the loading wheel only appears after the form has received a response from the webhook.
For context, my use case is text generation by chatGPT. I use a softr form, send the data to make.com through a webhook, wait for the response from the webhook and redirect to the softr page with an lsit-detail block.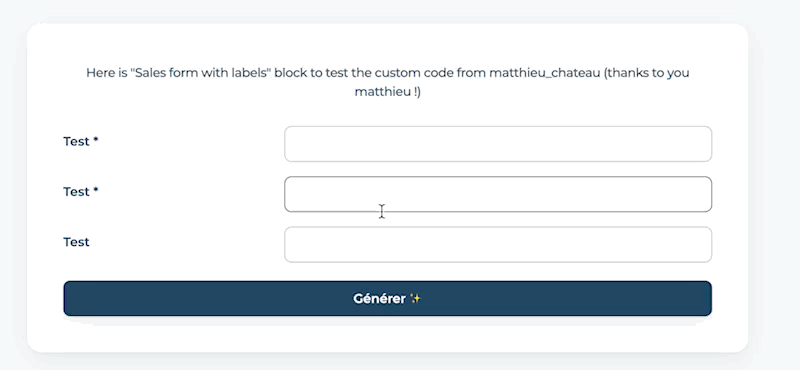 In this example, the webhook is intentionally misconfigured and doesn't redirect, but the point remains the same. If the page were correctly redirected, the loading wheel would be displayed for barely a second, which is not the desired effect. At the end of the GIF, the text appears but too late for a good UX.
I'd like to know if it would be possible to adapt the code so that the loading wheel appears immediately after the user clicks the submit button.
Any help or guidance would be greatly appreciated. Thank you so much!
Best regards

Here is the custom code,
<div id="loader" style="display: none">
  <div class="spinner-container">
    <div class="spinner-border" role="status">
      <span class="visually-hidden">Chargement...</span>
    </div>
  </div>
  <p class="loading-message">Génération du contenu en cours, patienter...</p>
</div>

<style>
  #loader {
    position: fixed;
    top: 50%;
    left: 50%;
    transform: translate(-50%, -50%);
    z-index: 9999;
  }
  .spinner-container {
    display: flex;
    justify-content: center;
    align-items: center;
  }
  .spinner-border {
    border: 4px solid #E9651C;
    border-top: 3px solid transparent;
    border-radius: 50%;
    width: 30px;
    height: 30px;
    animation: spin 1s linear infinite;
  }
  .spinner-border span {
    display: none;
  }
  .loading-message {
    font-size: 18px;
    font-weight: 500;
    color: #000000;
  }

  @keyframes spin {
    0% {
      transform: rotate(0deg);
    }
    100% {
      transform: rotate(360deg);
    }
  }
</style>

<script>
  const loader = document.getElementById("loader");

  window.addEventListener("submit-form-success-form3", function () {
    loader.style.display = "block";
  });
</script>