I currently have 4 tables
Proposals | Customer Data | Service 1 | Service 2
Proposed Table:
Offer | Customer Data Relationship + Customer Data Lookup "Name" | Service 1 Relationship + Service 1 Lookup "Service 1 Name" | Service 2 Relationship + Service 2 Lookup "Service 2 Name" | Service 2 Lookup "Service 2 Name".
Customer Data Table:
Full Name | Email | Phone
Table Service 1
Service Name | Price
Service 2 Table
Service Name | Price
---
I am trying to show with 3 lists details all the data related to a Proposal.
(Customer data | Service 1 | Service 2)
The web flow would be:
My Proposals → (when accessing show a page with 3 lists, where to show the data of the 3 relations that point to the proposal)-> I get redirected to the details of the first part (example customer data).
The problem is that I can't relate the rest of the items (Service 1 and Service 2) in 2 lists in the same page.
When I try to filter the list, I don't get the relation with the table I want to relate.
I don't understand because other times it does appear (attached picture).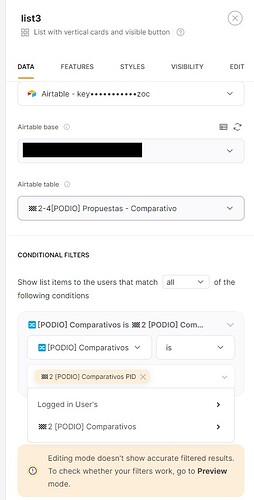 What am I doing wrong?
Thanks friends!