Dear,
We have a page that represent a user "Profile". A user profile consist of a lot of data. Therefore, we segregated the page to be consisting of about 7 different sections of the "List Page" block with 3 columns. In our usecase, users sign up with a Softr email and password, and after they arleady have a user, they can add data to their user by going to the profile page and editing the appropriate section.
We segregated the sections with custom user group for each section. If we were to have all the 7 sections under the same Edit Permission, the edit popup will be huge and scrollable too long.
Please see the image:

In the image, we can see 2 sections out of the many other sections, which are:
Basic Contact Details
Medical Status
As you can see in the following image, a user can edit the section and would only see the fields that belong to this section: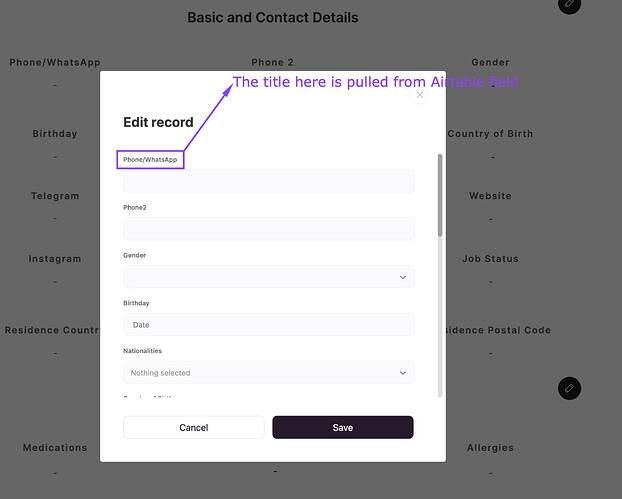 The current feature that would be helpful:
We need to improve the loading time of the edit record popup and the performance after tapping on the save button.
The edit record pull the titles from the Airtable fields name. Sometimes, want to explain the user what they need to do. It forces us to create long titles in Airtable in order for the Front-end in Softr to show something logical. For example: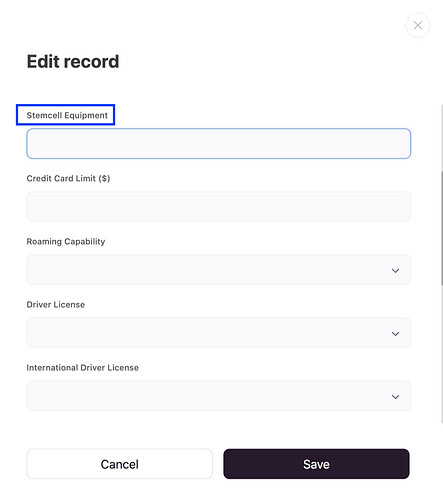 This title don't tell the user a lot when it comes to what data the user should input. The title is a mirror of our Airtable field name. It would be helpful if we can customize the Edit Record to be able to provide some hint to the user as to what we expect him to enter.
Lastly, a bug fix:
Naming some fields with special characters like semicolumns (") will cause the edit record popup to load forever. It is a difficult bug to diagnose unless contacting the Softr support