I am facing a challenge with my website and would greatly appreciate your guidance and expertise.
Currently, my website includes a list of locations that are stored in my Airtable base. While I have successfully implemented the "map block" feature provided by SOFTR, it only allows me to display one location at a time.
However, I am eager to create a comprehensive map that showcases all the locations from my list simultaneously.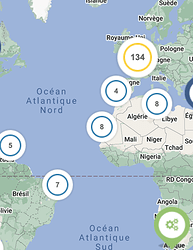 If any of you have experience or insights on how to achieve this, I would be immensely grateful for your guidance. Specifically, I am interested in learning how to integrate the data from my Airtable base onto a map embedded within my website, displaying all the locations from my list collectively.
Thanks