Hey!
I have ind of the same issue.
What worked yesterday isn't working anymore: elements were aligned on the right side and even if I didn't change anything, they're now on the left side… And impossible to send them back on the right. How come?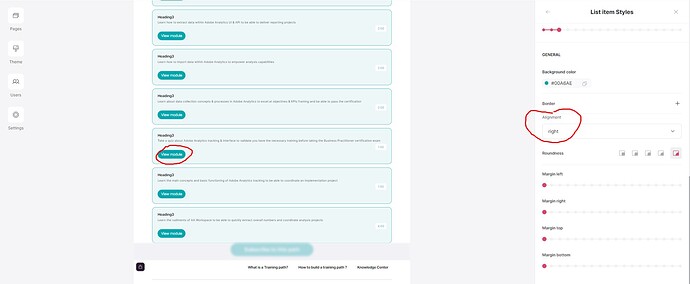 Thanks for your help!
Hello,
Can you please confirm that the block is up to date?
The matter is that we had such an issue which has been fixed. So, please double check if the block is of the latest version or not.
Thanks in advance.
No option to update block so can only assume its running on the latest version
Dear @Dan,
Let me apologise for the the confusion, this issue is a known one but has not been fixed.
However, I will let the team know about it and will keep you posted once having an update.
Once again sorry for the confusion.
Hey @Marjorie,
I will need to check this, will keep you posted once having an update.
Hey @Dan,
The team has fixed the issue, will keep you posted once released.
The update also broke the ability to add title tags to extra fields in the list block.
Though you cannot add title= to provided fields, you could do so with user added fields,
So for example you could specify the label as <span title='Lorem iosum'>Label</span> instead of just Label
Hey @cooper,
Thanks for notifying, will check this as well and keep you posted.
Just need some more information, which list block are you referring to? Perhaps you can add a URL for us to check?
Hey @Dan,
The issue has been fixed, in case you have issues, please clear cache and double check.
Dear @Marjorie,
The issues has been fixed. Please note that the default button cannot be aligned, a workaround would be adding a new button field and alight it.
Alignment correct this morning - Thank you
Thanks so much for the update

Hey @Suzie!
I have once again the issue but with an Embed button I added in the module. Is it possible to align it on the right side or not?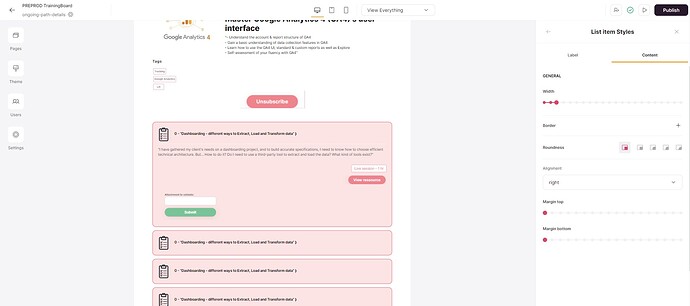 Thanks a lot for your help on this!
Hey @Marjorie,
Will need to do a few checkups, will keep you posted

It's my pleasure to help

Hi Suzie. Any way to center an image as well for web apps? It looks like you can center everything else except an image. In the mobile view, everything centered does not line up with an image so all of the content appears off center vertically otherwise.
Hey @Ben,
Can you please mention the block name you are referring to?
Thanks!